Run Entry Window
The Run Entry window is where you enter all your run information for a given day. Simply click on a day on the Calendar window and the Run Entry window pops up for you to enter your information.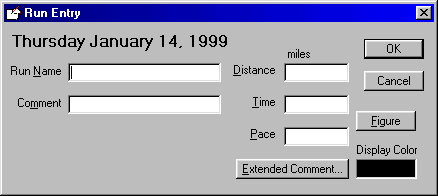 RunLog saves a list of previous run names that you've entered to pick from (you can edit these in the Edit Runs window). As you begin typing a Run Name, a list drops down with all your previous runs and the matching run is highlighted. If you select a previously entered run, the Distance is automatically filled in (of course, you can change it). Enter your Time and the Pace is automatically calculated for you. Use the Comment to display a short comment, or click on the Extended Comment button to enter an unlimited-length full-page comment on the Extended Comment window.
If you're running a new course where you don't know the distance, you can enter a Time and a Pace, click the Figure button and have RunLog figure the distance for you.
The window above displays the Run Entry window in its simplest form. If you define Run Types, Shoes, or User Defined Fields the Run Entry window might look like the following. User Defined Fields allow you to track anything that you want. (Deluxe version only)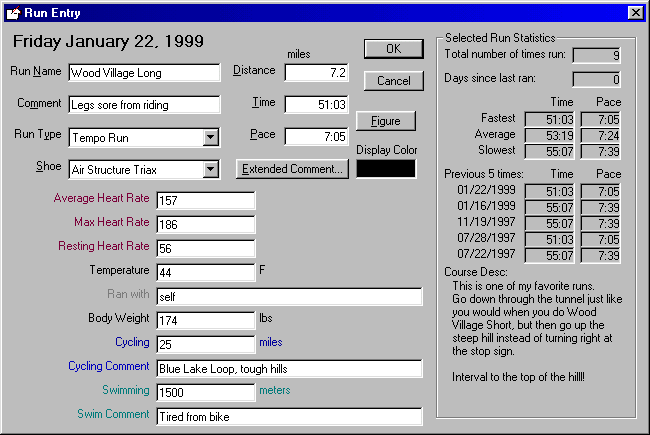 You can enter as much or as little as possible! You only ever have to enter the fields that you want.