RunLog Online Registration
Pegasus Software uses the Internet and Online Registration to distribute our software.
What is Online Registration?
You don't have to wait to receive a licensed copy of RunLog. You can register your demo copy simply by entering an order and filling out registration information online. We will send you a Serial Number and Registration Key via email to license your software.
Why should I order the Online version?
Advantage YOU!

You don't need to wait to receive your licensed version.
No more CDs and manuals cluttering up your work area.
CDs get out of date, but when you download, you always get the latest version of RunLog.
You save 25%. We lowered our price from $60 to $45.
International orders are FAST and there aren't any customs charges.

Advantage Pegasus!

We don't have to print manuals or disks.
We don't have to pack your order, print mailing labels, lick stamps, or go to the post office.

Advantage Earth!

We all benefit by not wasting paper and plastic.
We all benefit by not filling up our landfills with more paper and plastic.
How do I register online?
1) Download the Demo
Download and install the latest version of RunLog.
2) Purchase RunLog Online
The easiest way to order your Online version of RunLog is to click on 'Purchase' from the RunLog Registration window. After you enter your product, shipping, and billing information you will be prompted to enter your Registration Lock Id.

Once we process your order, we will email you the Registration Key and Serial Number that you will use to register your copy of RunLog. If all your registration information is approved you are emailed your registration information within an hour.

3) Register RunLog
When you receive your Registration Key and Serial Number via email, simply copy the contents of the email to the clipboard and open the Registration Window in RunLog. RunLog will automatically read your registration information from the clipboard and license itself.

What if I need to reinstall RunLog?
If you need to reinstall RunLog on the same computer, your original "Registration Key" will work. If you get a new computer and need to install RunLog on it, you simply go to the RunLog Online Registration page to get a "Registration Key" for the new computer..
What if I need the manual?
Most people we've heard from have said that RunLog is so easy to use they never even open their manual. However, if you do need it, the entire RunLog manual is include in the RunLog help file. Simply press F1 from inside RunLog and it will open up the help file to the page relative to where you are in RunLog..
RunLog Registration window - This is where you get your Registration Lock Id.
Just choose Register RunLog from the Help menu to get this window.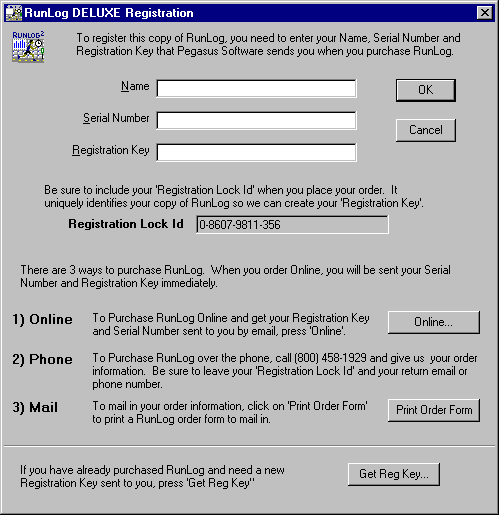 Choose Register RunLog from the RunLog Help menu to get to this Window.